! Microsoft Ads UEP tag>
Click on any photo for a larger image.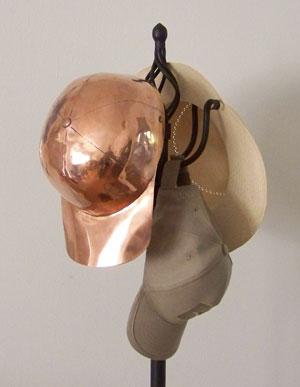 This is a fun piece that I originally made as a challenge. It is made from two pieces of copper. The dome of the hat started out as a flat piece of copper, which I hammered into a dome shape. The bill was then welded on. The seams are chiseled in, in a process called chasing.
I wear it to art events; it is quite a conversation piece, and attracts a lot of attention.
I could put a logo on it if desired, although this hat has no logo.
This hat fits me; if you want one to fit your own head, it would take several "fittings" to get the fit just right.