! Microsoft Ads UEP tag>
Click on any photo for a larger image.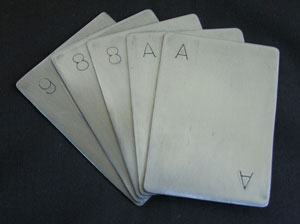 Title: Dead Man's Hand
Material: Steel
Size: 6 by 5 inches (15 by 12 cm)
$200
The Dead Man's Hand is part of the history of Poker and the Wild West. Wild Bill Hickok was shot dead while playing Poker in Deadwood, South Dakota in 1876. He preferred to sit in the corner with his back to the wall, but those seats were taken that day, so he took a seat with his back to the door. He was shot in the back. The poker hand that he was holding, black Aces and Eights, is now known as the Dead Man's Hand. I remember my father telling me that story when I was a boy.