Click on any photo for more information.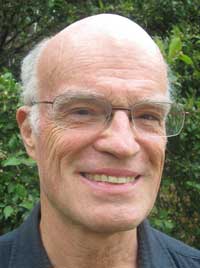 My work includes both representational and non-representational sculptures, although I am moving toward more representational sculptures. Curved shapes, and clean lines are common themes. Many of the sculptures are based on geometric shapes. Most of my work is in copper, but I also work in aluminum, steel and stainless steel.
Much of my work uses techniques and tools from multiple metalworking disciplines, including jewelry, blacksmithing, and automobile sheet metal work. I make many of my own tools. The combination of various disciplines and tools is a challenge, a source of great satisfaction, and an opportunity to produce unique work.
My design process begins with an idea or a concept, is developed into a series of sketches, and often includes a three dimensional model made out of paper or metal. When I am satisfied with the design, I go out to my studio and get to work.
Using a technique called "Direct Metal Sculpture", I start with sheet metal or bars, and begin bending, heating, hammering, cutting, grinding, and welding. The final finish may be natural, polished, painted, or a patina.